Straipsnio autorė Jogilė Miežienė, "I shall knot" makrame kūrėja.
Makrame augalams – yra ypatinga namų puošmena, bet ne visi augalai jose atrodo dailiai. Jau porą metų rišu makrame augalams kabykles ir ieškau "tų tobulų" augalų, kurie jose derėtų. Ir aš juos radau! Jei norite, kad jūsų makrame kabyklės grožis atsiskleistų, siūlau rinktis vieną iš šių gana nesudėtingos priežiūros, mano pačios išbandytų augalų:
7. Ceropegija paprastoji (Ceropegia woodii)
Angliškai dar vadinama "širdžių virvelė" (string of hearts). Ji auga labai ilga, todėl makrame augalams kabyklė turi būti gana aukštai, kad Ceropegijos nereikėtų dažnai trumpinti. Tiesiog privalėjau ją įtraukti į sąrašą – ji tokia žavi!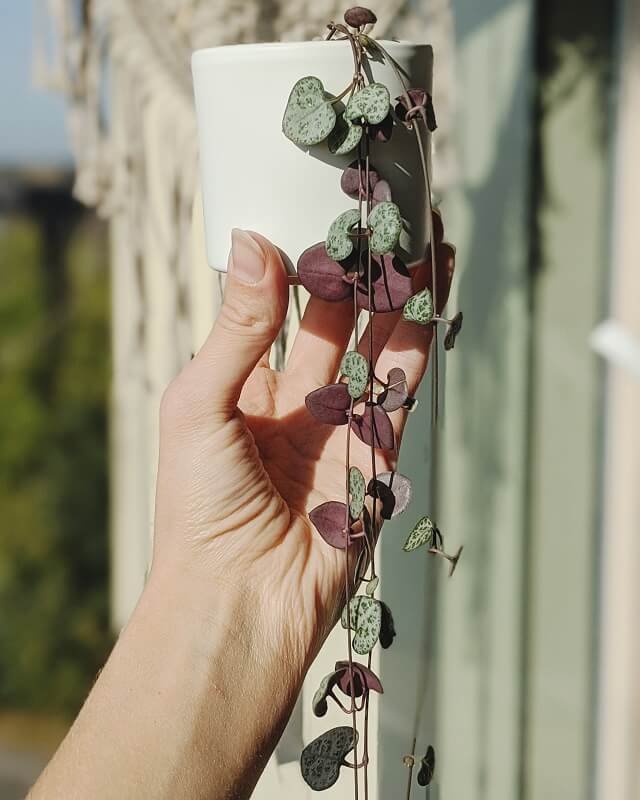 6. Peperomija 'Hope' (Peperomia 'Hope')
Yra koks milijonas peperomijų veislių, bet būtent šita kabyklėms optimali – lapai apsupa vazoną, bet šakelės ne per ilgos, todėl sukuria dailų vainiką. Be to, tik pažiūrėkit į tuos mielus apvalius lapelius!
5. Morgano šilokas (Sedum morganianum)
Kabantis sukulentas, angliškai vadinamas "Asilo uodega" (donkey's tail), taip smagiai dera su šiuo pavadinimu! Lapeliai stori, šviesiai žalsvi, netgi kiek melsvi. Priežiūra nesudėtinga. Tik svarbu atsiminti, kad jis nemėgsta būti liečiamas – lapeliai lengvai nulūžta. Todėl per dažnai nereiktų jo persodinti ar keisti makrame augalams kabyklių.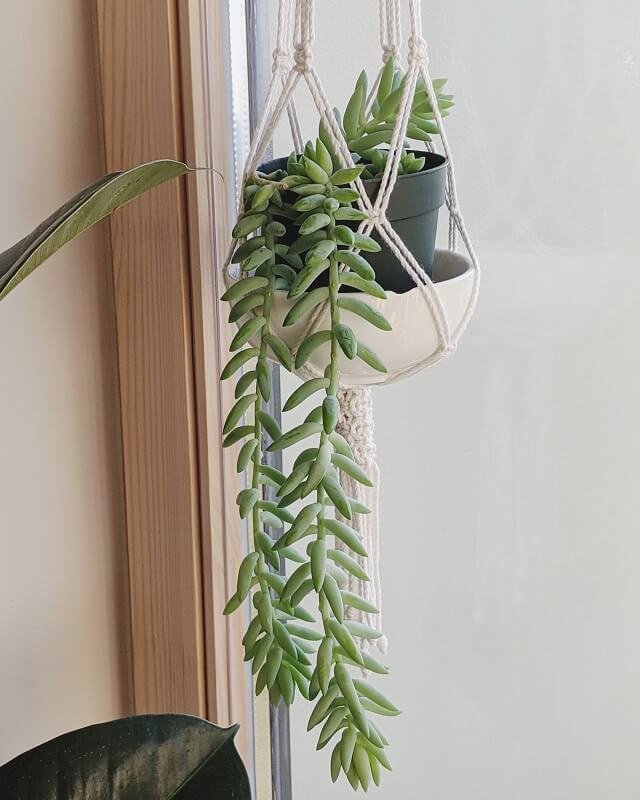 4. Tradeskantė (Tradescantia)
Labai lengvai prižiūrimas augalas, atsparus ir greitai augantis. Turėsite gražų pilną vazoną gana greitai. Taigi jei nenorite laukti – tradeskantė bus kaip tik! Tik turėkite omenyje, kad augti ji nesustos 😉 Tradeskančių yra nemažai populiarių veislių, pavyzdžiui, 'Zebrina', 'Tricolor', 'Callisia', 'Purple heart'.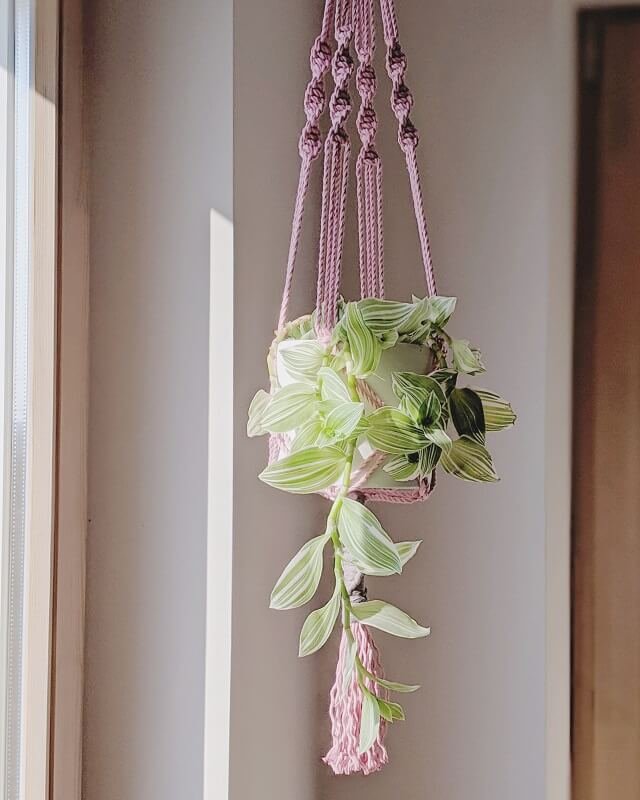 3. Chlorofitas (Chlorophytum)
Auga neskubėdamas, todėl ilgą laiką lieka daugmaž patogaus įprastinio dydžio. Smagioji dalis – jo vaikai kabo aplink vazoną kaip maži voriukai. Iš čia, matyt, ir angliškas pavadinimas "Spider plant". Galima juos palikti kaboti arba išdalinti draugams.
2. Skindapas (Pothos / Scindapsus / Epipremnum aureum) ir Filodendras (Philodendron)
Man šie vijokliniai augalai yra tiesiog tobuli kabinamiems vazonams. Netgi, sakyčiau, kabyklių klasika. Paklausite, kodėl jie ne pirmoje vietoje? Tuojau pamatysite 😉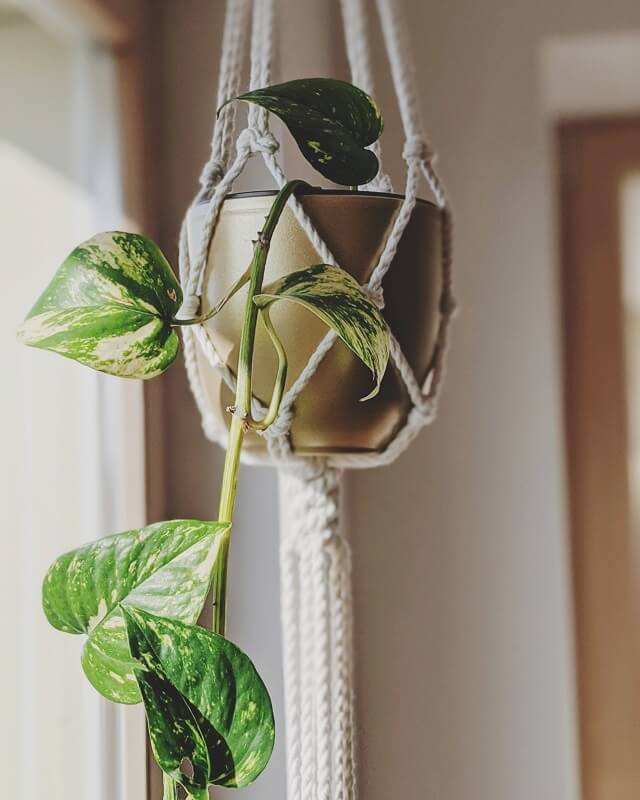 Ypatingų reikalavimų šie augalai neturi, yra atsparūs ir greit auga. Jei pasidaro per ilgi – galima tiesiog pakirpti šakas ir įkišti jas atgal į vazoną. Taip augalas taps pilnesnis, vešlesnis.
Kelios žinomiausios veislės: 'Golden Queen', 'Marble Queen' ir Scindapsus Pictus. Pastarasis, mano mylimiausias, sparčiai populiarėja. Ir nenuostabu, jis atrodo ypatingai!
1. Karolinė žilė (Senecio or Curio rowleyanus)
Jei "tobula" yra kiek nuobodoka, Karolinė žilė atrodo kaip iš pasakos! Priežiūra gana paprasta, vienintelis triukas – išgyventi žiemą jos neperliejant. Bet ji tikrai verta pastangų!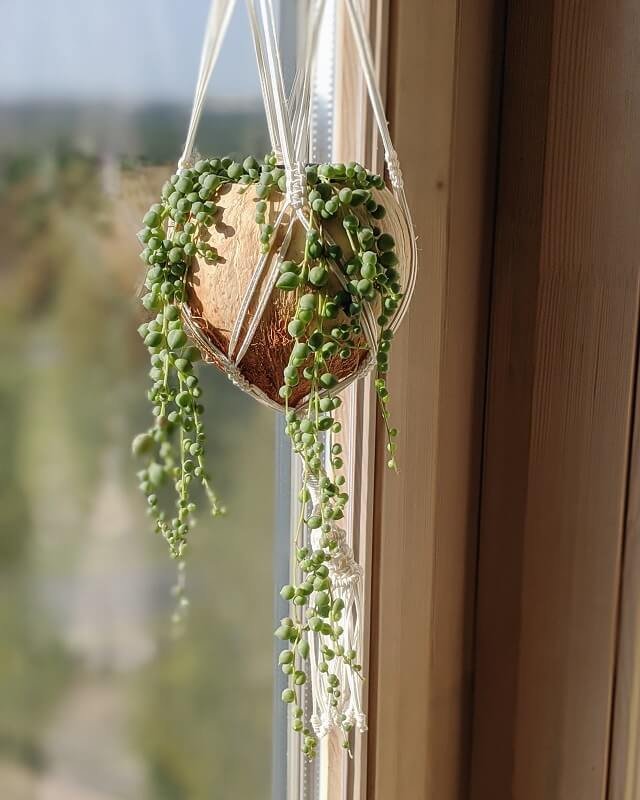 Nagi, kuri jūsų mėgstamiausia?
TAIP PAT SKAITYKITE:
"Stilingiems namams: 7 kambariniai augalai, mėgstantys tamsą"
"Kambariniai augalai – kaip sukurti kompoziciją kokedama būdu"