Keičiasi apželdinimo mados, o jūsų sklypas vis toks pats? Kad aplinkos dizainas atrodytų šiuolaikiškesnis, nebūtina kardinaliai viską pertvarkyti. Pradėkite nuo mažų žingsnelių.
MAŽIAU DIRBTINUMO
Gamta nėra preciziška ir sterili, tad neturėtume to siekti ir savo sklype. Prie tradicinio priemiesčio namo dažnai netinka įmantriai išraitytos gėlyno linijos, dirbtinai atrodantys formuoti augalai (pvz. bonsai), alpinariumas su išrikiuotais vienodo dydžio akmenukais.

Duokite šiek tiek laisvės, leiskite augalams išlipti iš gėlyno ribų, formuokite nekrentančius į akis krūmus. Akmenis patupdykite tarsi natūraliai čia nukritusius, tegul apsitraukia kiliminiais augalais ar samanomis. Jei turite vandens telkinį, pažaiskite su jo forma, apželdinkite užmirkimo nebijančiais augalais, o ne kovokite su krantuose įrengta veja, kurią reikia nuolat šienauti.
Gėlyne įterpkite pasirinktų dekoratyvinių žolių, tokių kaip viksvos, miskantai, šluotsmilgės, soruolės, melvenės ar pan. Linguodamos vėjyje, jos pagyvins statiškas spygliuočių formas ir taps puikiu raminančiu fonu, jei turite ryškių gėlių. Ir tuo pačiu tegul tai būna nedidelė užuomina iš dabar madingos žolinių dekoratyvinių augalų bangos.
VIENTISAS SKLYPO VAIZDAS
Sugalvokite savo sklypo idėją ir pabandykite iš šalies pasižiūrėti, ar tikrai reikia tiek daug skirtingų augalų. "Mažiau yra daugiau", sako "Geltono karučio" kursų lektorė, kraštovaizdžio specialistė V.Vaitkutė-Eidimtienė.
Dažnai į nedidelį žemės lopinėlį stengiamasi įsprausti daug skirtingų augaliukų, tačiau tai neduoda bendro gražaus vaizdo. Pabandykite sumažinti rūšių skaičių, o tuos augalus, kurie gerai atrodo ir tinka jūsų sklype, drąsiai pakartokite keliose vietose. Leiskite jiems atsiskleisti, sukurti nuotaiką – dėl to sklypas tikrai neatrodys nuobodesnis, o kaip tik vientisas, rišantis, turintis tam tikrą logiką.
Ryškios vienmetės gėlės pakabinamuose vazonuose, ypač jei jos skirtingos, taip pat dažnai neduoda bendro vaizdo, jei pasirinktos neatsižvelgiant į aplinkos visumą.
KITI DEKORATYVINIAI SODO ELEMENTAI
Modernūs apželdinimo kursai "Geltonas karutis" sako tvirtą "ne" nykštukams ir plastikiniams gandrams sklype – išmeskite juos be gailesčio. Tai masiniai produktai, kurie sumenkina visą jūsų triūsą ir meilę, kurią sudėjote kurdami savo sklypą.
Paieškokite originalių idėjų, sugalvokite savo kūrinių. Skulptūra suteikia charakterį, ji matoma ir žiemą, todėl atsakingai ją pasirinkite. Skulptūra turi atitikti ir bendrą sklypo viziją. Jei gyvenate kampuotame šiuolaikiškame name, vietoj garbanoto angeliuko geriau pastatykite lakoniškų formų skulptūrą, didelius lauko vazonus arba vertikalią sienelę su tekančiu vandeniu.

Fontanai ir kitokie vandens telkiniai pagyvins bet kurį sodą. Jei neturite vietos, įrenkite nedidelį fontaną su cirkuliuojančiu vandeniu – matysite tik šlapią akmenį ir girdėsite čiurlenimą. Įrenkite paukščių girdyklą – taip paprasta ir kartu taip šiuolaikiška!
MULČIAVIMAS
Mulčiavimas reikalingas, kad sukurtume tinkamą terpę dirvos paviršiuje. Šiuolaikinis aplinkos dizainas ir dabar šią funkciją palieka kaip pagrindinę.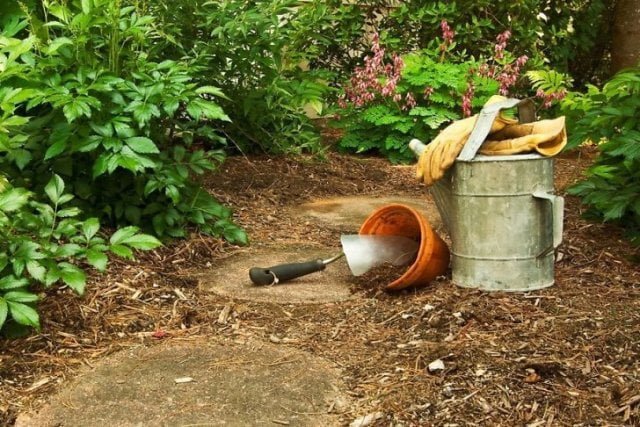 Pašalinkite dekoratyvinį spalvotą mulčią ir jūsų gėlynas iškart atrodys natūralesnis, gaivesnis. Akių žvilgsnį turi patraukti ne žemė, o augalai. Tad žemę uždenkime natūraliu mulčiu arba tankiau apsodinkime augalais.
Šis straipsnis publikuotas Manonamai.lt portale 2014 11 06, nuotraukos panaudotos iš ten.