Vienas iš gražiausių dalykų, ką galime turėti savo kieme ankstyvą pavasarį – krokai vejoje. Apie krokų auginimą šiandien ir papasakosiu, žiūrėkite šį video:
Kas gi pasakė, kad jūsų kiemas negali būti prezidentinis? Taip, aš prie prezidentūros. Taip, čia pievelė, nusagstyta krokais tarsi briliantais! Krokai vejoje labai paprastai gali padaryti didelį efektą ir jūsų kieme.
Krokai vejoje: kada ir kaip sodinti
Krokai – pirmiausios pražystančios svogūninės gėlės pavasarį. Na gal tik snieguolės anksčiau. Būnam jau beprotiškai išsiilgę žiedų, pirmieji lapeliai dar tik pradeda sprogti, kažką sodinti išvis per anksti. O čia štai – galybė žiedų! Būtent dėl to krokai vejoje atrodo tikrai efektingai.
Kad to pasiektumėte, apie krokų sodinimą galvokite rudenį, kai sodinamos visos svogūninės gėlės. Sodinti galima jau rugsėjį, bet nieko neatsitiks, jei pasodinsite ir vėlai rudenį.
Krokus, kaip ir kitus svogūninius augalus, reikia sodinti trijų svogūnėlių gylyje, tai yra 3-5 cm gylyje:
– vejoje nuimti velėną;
– duobutėje įdėti svogūnėlį (stebėti, kad bukasis galas, kur bus šaknys, žiūrėtų žemyn);
– uždengti jį ta pačia velėna.
Darbas labai greitas, labai paprastas, o vaizdas – įspūdingas.
Gražiau išbarstyti ar tvarkingai susodinti krokai vejoje?
Krokų žiedeliai labai mažyčiai, todėl rekomenduoju jų pasisodinti daug. Vienas kitas žiedelis net nepasimatys. Todėl bus normalu, jei sodinsite kelias dešimtis mažame plotelyje ar kelis šimtus kiemo vejoje.
Krokus galima grupuoti, kad išaugtų kuokšteliais, galima daryti ornamentus. Tik darant ornamentą reikėtų įsivertinti, kad vieni krokai gali išaugti anksčiau, kiti vėliau, todėl nebūtinai visi ornamente esantys krokai žydės vienu metu, dėl to ornamento gali net nesimatyti arba jis išsikraipys.
Man patinka natūralistinis vaizdas, todėl aš patarčiau pasiimti saują svogūnėlių ir juos tiesiog išbarstyti vejoje: kur nukrito, ten ir pasodinti.
Krokai turėtų augti saulėtoje vietoje. Kadangi jie žydi ankstyvą pavasarį, tinka ir po medžiais. Anksti pavasarį jie dar nesulapoję, po jais saulėta.
Krokai vejoje po žydėjimo: ką daryti toliau?
Kad krokai gyvuotų kuo ilgiau, o ne vieną pavasarį, jie turi sukaupti maisto atsargų į svogūnėlį. Per lapus vykdoma fotosintezė, taip maisto medžiagų pasigaminama kitiems metams. Todėl lapai turi išlikti kuo ilgiau nenupjauti – iki tol, kol pradės gelsti. Ką tai reiškia Jums? Nužydėjus krokams, dar bent tris savaites nešienaukite vejos.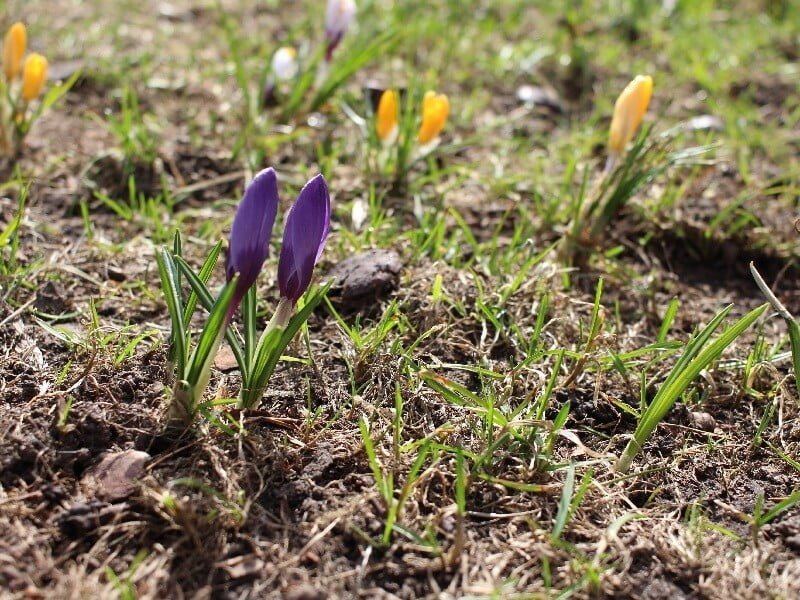 Pagalvokite apie vejos pjovimo poreikį prieš sodinant krokus. Jeigu jūsų veja yra kiemo pasididžiavimas, bet ji ilgai turės būti nepjauta ankstyvą pavasarį – gal krokams reikėtų paieškoti kitos vietos? O jeigu pievelei nieko neatsitiks anksti pavasarį jos nenušienavus, tada krokai vejoje – puikus pasirinkimas.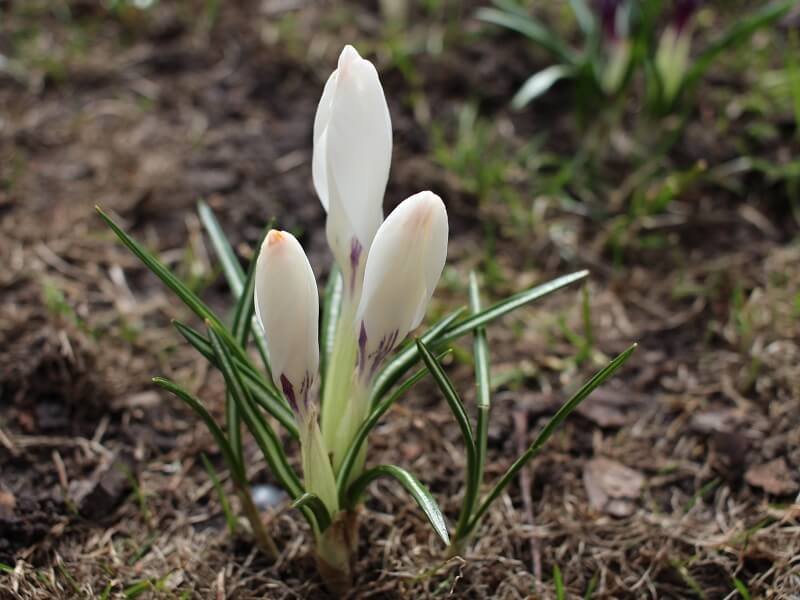 Ir primenu, nepamirškite apie krokus pagalvoti dar rudenį, net jeigu jau spalis ar lapkritis, svarbu, kad į žemę dar būtų galima įkišti svogūnėlį!
Taip pat skaitykite:
Visi straipsniai, susiję su vejos įrengimu ir priežiūra – štai čia, spauskite ir pasirinkite dominančią temą.
Visi straipsniai, susiję su sklypo projektavimu – spauskite pasižiūrėti čia.
Kviečiame registruotis į kursus "Mano sodo dizainas", kurių metu mokome, kaip susiplanuoti šiuolaikišką dizainą savo kiemui. Plačiau apie kursus skaitykite čia.