Laikas pereiti į rudens-žiemos sezoną, ir vazonus, kuriuose augo vasarinės gėlės, panaudoti žieminėms kompozicijoms. Net neabejojame, kad švenčių laukti bus dar smagiau, kai jūsų terasą ar namus papuoš kalėdinė kompozicija vazone. O kaip ją susikurti, papasakojo kraštovaizdžio architektė, "Geltono karučio" lektorė Lina Puodžiūtė. Žiūrėkite video, kuriame pamatysite visą sodinimo eigą:
Šiai kompozicijai sukurti naudoti augalai: puskiparisis (lot. Cuprocyparis Leylandii 'Gold Rider'), viržis (lot. Calluna Vulgaris Skyline), kalocefalas (lot. Calocephalus (Leucophyte) Brownii).
Puskiparisis padeda išgauti kompozicijos aukštį, be to, per Kalėdas bus galima jį papuošti. Taip pat pasirinkta ši nauja viržio rūšis (lot. Calluna Vulgaris Skyline), kurios šluotelės yra labai purios ir gražios. O kalocefalas dažnai naudojamas kompozicijose, nes gerai išlaiko savo struktūrą iki pat pavasario bei suteikia sidarbrinę spalvą, kuri tinka tiek kalėdiniu laikotarpiu, tiek simbolizuoja mūsų žiemą.
DARBŲ EIGA:
1. Keramzitinis sluoksnis. Taip pat gali būti naudojami smulkūs akmenukai arba molio šukės. Šis sluoksnis atlieka drenažo funkciją – neleidžia kauptis vandeniui. Kadangi visi trys kompozicijos augalai nemėgsta užmirkimo, o rudenį būna tikrai daug drėgmės, tai būtent šis drenažo sluoksnis yra labai svarbus.
2. Universalus substratas. Ant keramzito sluoksnio pilame žemę. Atkreipkite dėmesį, kad šiai kompozicijai rinkomės universalų substratą. Bet jeigu sodintume į dirvą, tai viržiui reikėtų rinktis rūgščią žemę, nes jis yra rūgščiamėgis augalas. Tačiau, kadangi ši mūsų kalėdinė kompozicija vazone yra trumpalaikė – bus graži ir tarnaus iki pavasario, todėl renkamės paprastą universalų substratą. Esant tokiam atvejui, šią kompoziciją galima palaistyti su trąšomis, kurios turi daugiau rūgšties, taip viržis bus labiau palepintas.
3. Augalai. Pradedame nuo aukščiausio augalo – puskiparisio. Surandame jam vietą, pažiūrime, kokiu kampu jis atrodys gražiausiai ir beriame truputį žemių, kad augalas laikytųsi. Patikriname, kad jis būtų įsodintas truputėlį žemiau, nei vazono kraštas, tam, kad užtektų vietos dar viršutiniam sluoksniui. Po to imame kalocefalą. Jeigu augalo šaknų labai daug ir jos smarkiai susivijusios, truputėlį jas išskaidome ir tada sodiname. Taip paskatinsime augalą greičiau įsišaknyti į naują dirvą. Galiausiai į vazoną sodiname viržį. Augalus įtvirtiname berdami žemių ir jas tvirtai suspausdami, tačiau nepamirškite palikti dar truputį vietos iki vazono krašto.
Ši kalėdinė kompozicija vazone išeina labai tanki, ir taip daroma neatsitiktinai. Kadangi augalai žiemos metu neauga, jie neformuoja naujų šakų ir nesivysto, tai jų dydis nepasikeis visą šaltąjį laikotarpį. Taigi, jeigu norite, kad kompozicija atrodytų gausi, tai nepamirškite, kad tarpų tarp augalų palikti nereikia, nes jie neužsipildys.
4. Viršutinis sluoksnis. Ant viršaus beriamos keramzito granulės gražiai atrodo ir tuo pačiu paslepia tuščios žemės lopinėlius. Taip neleidžiama susiformuoti žemės plutai, kuri gali atsirasti nuo laistymo. Į didesnius tarpus ar norėdami akcento, galite panaudoti kankorėžius, džiovintus obuoliukus, šermukšnio šakelę ar dar kažką panašaus.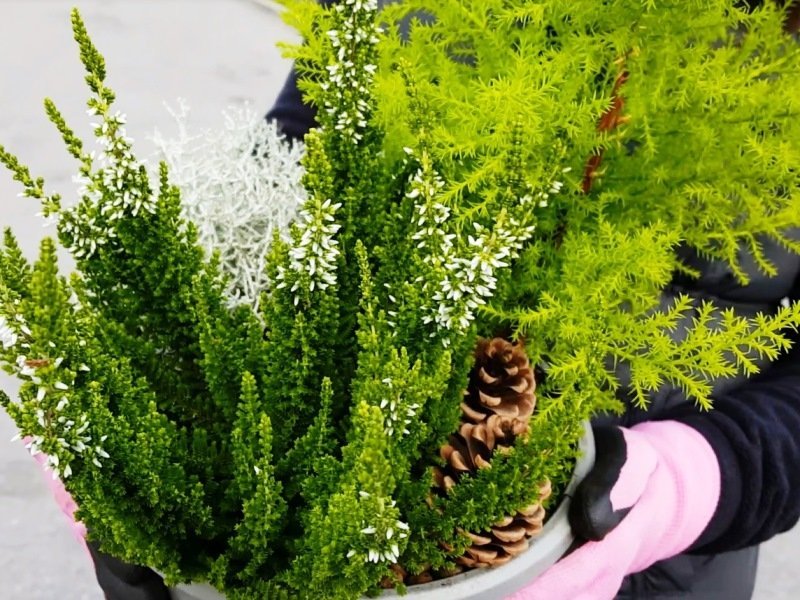 Tokią kompoziciją galite laikyti ir namuose. Tiek viržis, tiek kalocefalas gali nesunkiai pakęsti tiek sausą žemę, tiek orą. Kiek sunkiau puskiparisiui, tačiau retkarčiais galima visą kompoziciją apipurkšti vandens dulksna ir tokiomis sąlygomis laikyti ją viduje. Tačiau tokia kalėdinė kompozicija vazone savo žaluma, kurios taip trūksta ir norisi žiemos metu, tikrai papuoštų kiekvieną įėjimą į namą ar terasą, nes iš esmės ji skirta lauko sąlygoms.
Taip pat skaitykite ir žiūrėkite:
"Kalėdinė dekoracija stalui, kurią sukurti sugebėtų kiekvienas" (su video)