Rododendrų mulčiavimas yra labai svarbus, tačiau tam tinka ne visos medžiagos iš gamtos. Apie tai, kaip rododendrai mulčiuojami VU Botanikos sode Kairėnuose, papasakojo vyr. botaninių kolekcijų kuratorė Ramunė Žemgulytė.
Kiemas neturi būti nuobodus – būtent to mokome kursuose "Augalų komponavimo seminaras". Jeigu sunku suprasti, kaip suderinti skirtingus augalus bei kaip išsirinkti tarp daugybės rūšių, šie mokymai jums bus kaip tik.
Kodėl svarbus rododendrų mulčiavimas
Rododendrų šaknys išsidėsčiusios labai plačiai, bet negiliai, todėl jos negali pasisemti drėgmės iš gilių dirvožemio sluoksnių. Būtent todėl labai svarbu užtikrinti pakankamą drėgmę dirvos paviršiuje.
Vienas būdas – nuolat laistyti.
Kitas būdas – mulčiuoti.
Mulčias sulaiko drėgmės išgaravimą, todėl tai puiki priemonė, padedanti rododendrams augti sveikiems.
Tačiau ne visos medžiagos tinka rododendrų mulčiavimui.
Mulčiavimas durpe
Kai kurie rododendrų augintojai mulčiuoja durpėmis, tačiau Ramunė to nerekomenduoja daryti.
Durpės lengvai prisigeria drėgmės, todėl žiemą jos sušąla į ledą. Sušalęs mulčias lėtina žemės atšilimą pavasarį ir tuo pačiu stabdo rododendrų augimo procesus. Dėl šios priežasties rododendrų mulčiavimas durpėmis nėra gera mintis.
Mulčiavimas pušų spygliais
Pušų spygliai – idealiausias pasirinkimas rododendrams mulčiuoti. Jie nesugeria drėgmės ir yra labai lengvi, todėl neužspaudžia rododendrų šaknų ir leidžia joms kvėpuoti.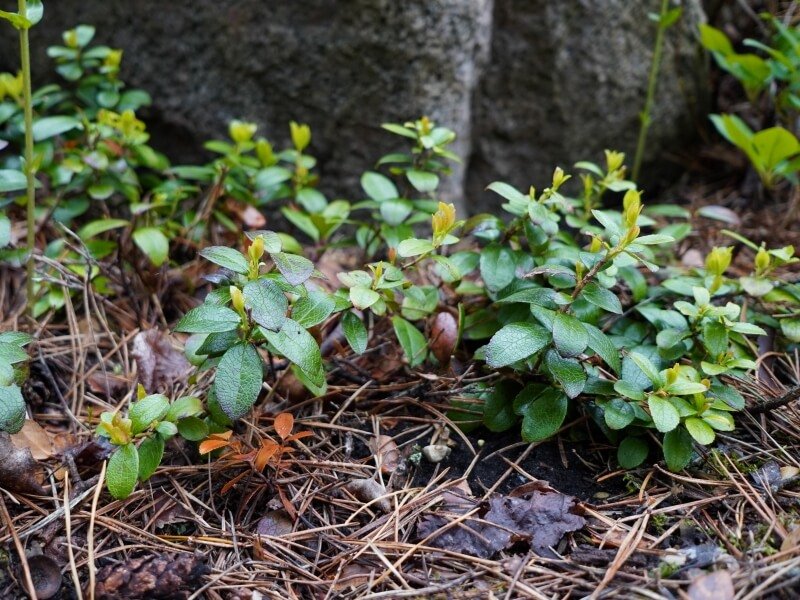 Pušys ima mesti spyglius anksčiau negu lapuočiai numeta lapus, todėl jau gana anksti rudenį galite prisigrėbti spyglių ir juos tiesiog išbarstyti aplink rododendrų šaknis.
Be to, pušų spygliai per keletą metų natūraliai sutrūnija, o irdami tuo pačiu rūgština dirvą. Tuomet dirvožemio nebereikia papildomai rūgštinti. Rododendrai geriausiai auga būtent rūgščioje dirvoje, todėl mulčiuodami pušų spygliais vienu šūviu nušausite du zuikius.
Mulčiavimas pušų žieve
Rododendrų mulčiavimas pušų žieve – taip pat neblogas variantas, tik svarbu žinoti, kad pušų žievės gabaliukai yra stambesni, todėl kartais po jais mėgsta apsigyventi grambuolių lervos. Jei grambuolių jūsų kieme yra, pagalvokite apie tai.
Dėl šios priežasties pušų spygliai yra geresnis pasirinkimas, tačiau jeigu jų neturite, nesuklysite pasirinkę bet kokią kitą pušų medžiagą, įskaitant žievę ar drožles.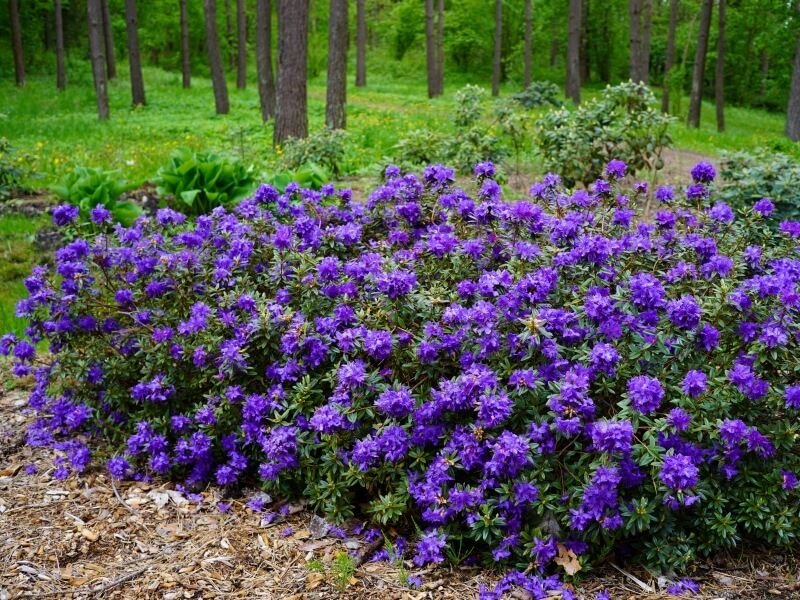 Kaip teisingai mulčiuoti rododendrus
Mulčiavimas dar labiau pasiteisins, jeigu dar sodindami suformuosite kauburėlį iš žemių – apie tai plačiau pasakojome šiame straipsnyje.
Apmulčiuokite visą duobės paviršių, įskaitant ir suformuotą kauburėlį. Mulčias padės išsaugoti drėgmę, o suformuotas kauburėlis užtikrins, kad rododendrus laistant vanduo neišbėgtų pro kraštus.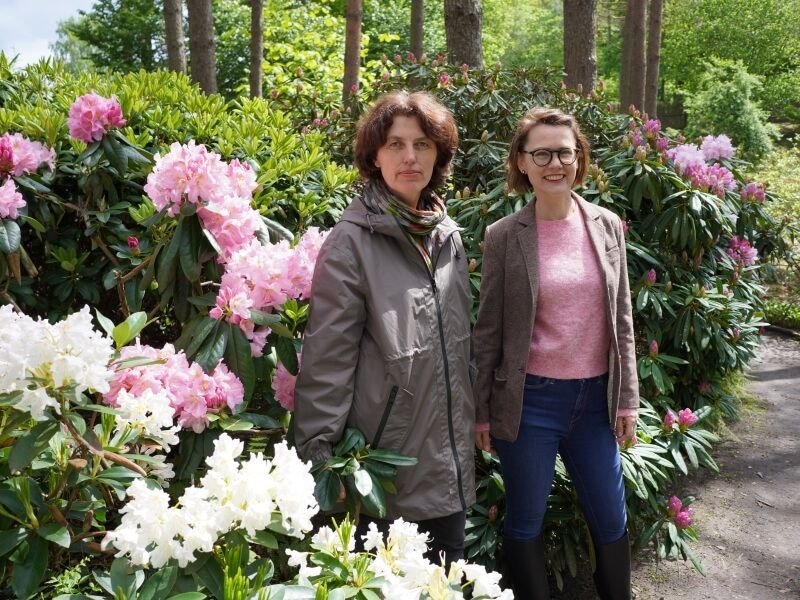 Štai ir visa esminė informacija, kad rododendrų mulčiavimas pavyktų. Nemulčiuokite durpėmis ir vietoje jų rinkitės pušų spyglius, drožles ar žievę. Taip mulčiuodami tikrai nesuklysite, o rododendrai gražiai augs. Ačiū Ramunei iš VU Botanikos sodo, kuri papasakojo apie rododendrų mulčiavimą!
Susiję kursai:
"Augalų komponavimo seminaras" – tai kursai, kuriuose mokome augalų komponavimo meno. Juose išmoksite atskirti, kokie augalai tinka jūsų kiemui ir kaip juos tarpusavyje suderinti.
Taip pat skaitykite:
"Rododendrų veislės: kaip žinoti, kas man tiks"