Kiemo apželdinimas dažniausiai kuriamas iš nuojautos, remiantis ankstesniais patyrimais, rekomendacijomis iš medelynų ar tiesiog kaimynų. Tačiau nežinant tam tikrų dizaino dalykų, galima padaryti klaidų. Žiūrite paskui į savo "kūrinį" ir galvojate: o kas gi čia taip?..
KIEMO APŽELDINIMAS: DAŽNIAUSIOS KLAIDOS
Štai 5 dažniausios klaidos, kurias padaro naujakuriai arba tie, kurie jau senai tvarkosi savo kiemuose. Jos susijusios ne tik su dizainu ir grožiu, ne tik su jaukumu, kurį visi bandom susikurti, bet ir su priežiūra. Pasižiūrėkite, kokias 5 dažniausiai pasitaikančias klaidas padaro žmonės, dar tik planuodami pertvarkas savo sklype. Čia pat pateikiu ir rekomendacijas, kaip "sutvarkyti" savo kiemą:
Šiame video paminėtos 5 dažniausios klaidos, dėl kurių kiemo apželdinimas nepavyksta taip, kaip tikimasi:
1. Netinkamos aukščio proporcijos.
2. Per daug vejos.
3. Margumynas.
4. Esamų sąlygų nepaisymas.
5. Netinkama planavimo eilės tvarka.
Kad kiemo apželdinimas būtų pavykęs, visada smagu rasti gerą specialistą, bet, deja, ne visada pavyksta tokį rasti. Tačiau be specialisto pagalbos, vis tiek teks patiems toliau savo sklype tvarkytis. Todėl jeigu žinosite pagrindinius aplinkos kūrimo principus, jeigu žinosite "palengvinimus", apie kuriuos papasakojau šitame video, bus žymiai paprasčiau toliau ilsėtis savo sklype ir grožėtis aplinka, o ne nuolat kalti sau į galvą, kad kažkas ne taip, kažko dar nepadarėt. Susikurkite savo aplinką tokią, kad galėtumėt mėgautis joje!
Kad darbus atliktumėte tada, kada reikia, ir išvengtumėt klaidų, peržiūrėkite darbų atlikimo schemą čia: "Kieme pertvarkos? Kokia teisinga darbų eilės tvarka"
Apskritai visa sklypo kūrimo eiga, kalbant ne tik apie darbus, bet ir apie kūrimo procesą, aprašyta čia: "Naujo sklypo apželdinimas: nuo ko pradėti?"
Čia gražus pavyzdys, kur sklypo pertvarka padaryta pakeitus vejos formą – jei tik turite kelis medelius, išmėtytus vejoje, toks būdas padės pakeisti sklypo vaizdą iš esmės, net nepareikalavus papildomų išlaidų. Visi trys etapai aprašyti čia: "Veja kaip dizaino elementas: pokyčiai kieme be išlaidų".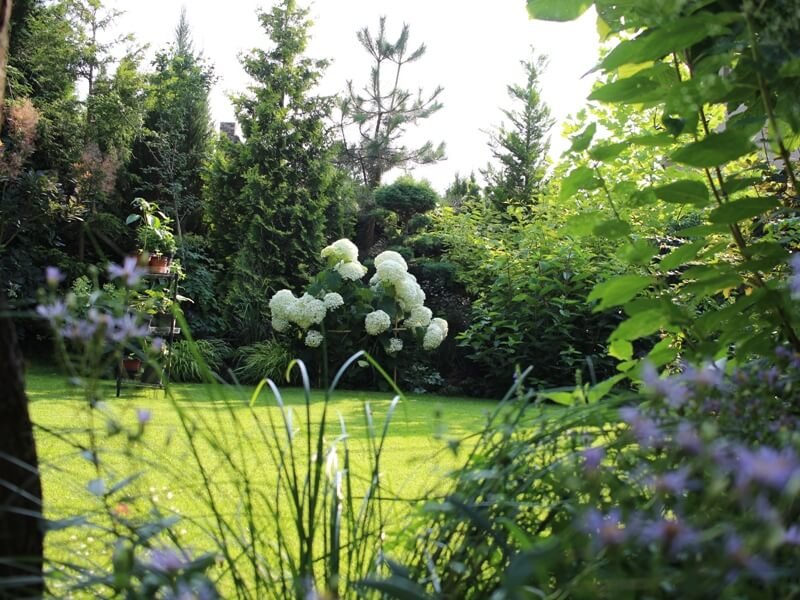 Taip pat skaitykite:
Visus straipsnius, susijusius su vejos įrengimu ir lengvesne priežiūra – rasite čia.
Visi straipsniai, susiję su sklypo projektavimu – spauskite pasižiūrėti čia.
SUSIJĘ KURSAI:
Kad mažas sklypas taptų jaukesnis, kad priežiūros reikėtų mažiau, reikia žinoti bent kelias gudrybes. Kaip tokį susikurti, mokome kursuose "Mano sodo dizainas".
Jei Jūsų sklypas didelis, sutaupyti savo laiko ir išvengti brangiai kainuojančių klaidų galite apsilankę įkvepiančiuose kursuose "Sodybos apželdinimas".