Kalėdinės dekoracijos kieme, turint nuosavą namą – būtinas reikalas! Pasižiūrėkite, kokius papuošimus mes panaudojom, kai kuriuos pirkom, o kai kuriuos pritaikėme iš to, ką radom namuose. Juk norėjosi paprastą, nesutvarkytą, nepabaigtą terasą paversti jaukia ir kalėdiška!
Spauskite tiesiai ant video ir žiūrėkite, kaip viską darėme. O čia plačiai aprašysiu keletą triukų, kuriuos panaudojome:
1.Kalėdinės dekoracijos – ne visam plote
Mūsų terasa yra ilga ir aukšta. Tai nėra labai gerai, nes ji atrodo neproporcinga (ilgo koridoriaus efektas). Kad to išvengtumėm, mes erdvę darome kvadratiškesnę. Tai darome dviem būdais:
Palubėje kabiname girliandas su lemputėmis, taip sukuriame vizualiai žemesnes lubas;
Puošiame terasą ne per visą ilgį, o tik pusę jos. Priekinę dalį puošiame intensyviai, per vidurį statom vizualinį barjerą (eglutę, stalą, krėslą), galo nepuošiame: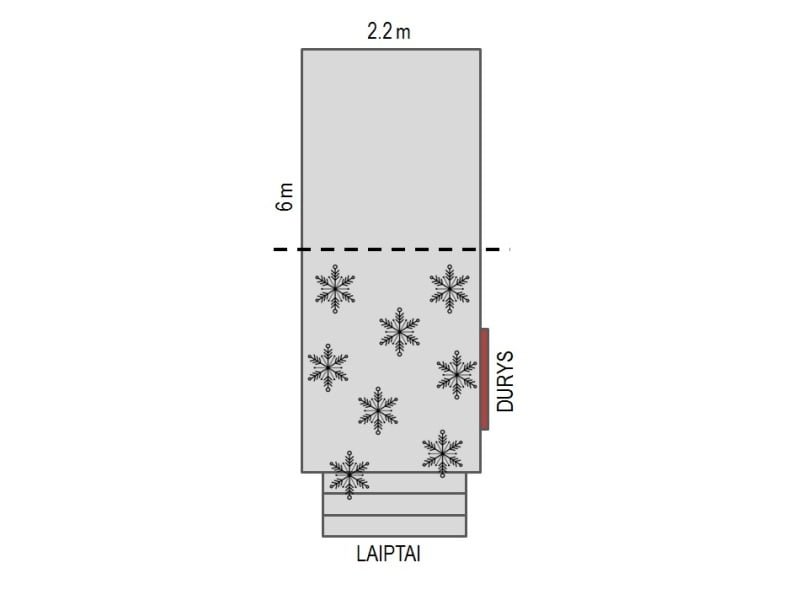 Kaip tai atrodo ne schemoje, matosi video reportaže nufilmuota.
2. Kalėdinės dekoracijos, kurios šviečia
Antroji gudrybė – jei jau puošiate lauką, tai būtinai naudokite šviečiančius elementus. Namuose papuošimai gali būti įvairiausi, jiems apšvietimas – malonus priedas, o ne būtinybė. Tačiau žiemą lauke taip ilgai būna tamsu, kad daugelis žmonių išeina į darbą kol dar tamsu, o grįžta namo, kai jau tamsu. taigi jeigu norite ne tik žinoti, kad pasipuošėte kiemą, bet ir tuos papuošimus matyti, naudokite šviečiančius elementus.
Mūsų terasos pertvarkoje panaudotos tokios šviečiančios kalėdinės dekoracijos iš parduotuvės "Žalia stotelė":
Lempučių girlianda aplink koloną ir ant eglutės – reikėjo 2 vnt. po 20 metrų, būtų užtekę mažiau;
Lemputės palei lubas – reikėjo 2 vnt., po 5 metrus, pravers ir ateičiai vakarėliams kieme, ne tik Kalėdoms;
Šviečianti pastatoma eglutė – 1,2 m aukščio;
Šviečiantis durų vainikas – 50 cm skersmens, pajungimo laidas 5 m – į elektros lizdą pajungėme iš vidaus, patalpoje.
Ačiū parduotuvei "Žalia stotelė" už bendradarbiavimą ir šviečiančias dekoracijas! Kitus papuošimus darėmės patys arba panaudojome tai, ką turėjome: tai kalėdinis vainikas, lauko kėdė, raudona staltiesė, pledai, dirbtinių eglių girlianda, ir t.t.
Kaip kabinti kalėdinį vainiką nesugadinant durų, skaitykite čia.
Kaip pasirinkti kalėdinį lauko apšvietimą, 3 dizainerės patarimai čia.
3. Kalėdinės eglutės pastatymas
Yra vienas mažas triukas, kaip patogiai pastatyti kalėdinę eglutę.
O gudrybė tokia: kai nusiperkate eglutę, prašykite, kad ją įvilktų į tinklinį sietą. Namuose atsivežę neskubėkite eglutės iš to sieto išlaisvinti. Visų pirma ją įstatykite į stovą, gerai pritvirtinkite, ir tk tada sietą nuimkite (videoreportaže matosi tas momentas).
Jeigu eglutę "išrengsite" anksčiau, bus nepatogu ne tik ją vežti automobilyje, įnešti į namus, bet ir įstatyti į stovą. Šakos plačios, spygliukai bado – tikrai ne pats maloniausias jausmas. Tad geriausia tą sietą nuimti tik jau įstačius į stovą.
Vaizdas PRIEŠ:
Vaizdas PO:
Kalėdinės dekoracijos "iš nieko":
Noriu padėkoti:
Apšvietimo dizainerei ir dekoratorei Astai Remeikienei už smagią kompaniją, aštrų žvilgsnį ir praktiškus patarimus įrengiant kalėdišką terasą. Pasižiūrėkit čia daugiau jos darbų.
Ir dėkoju parduotuvei "Žalia stotelė", kurios dekoracijomis galėjome pasipuošti, ir jums gražių pavyzdžių parodyti.
Taip pat skaitykite:
"Kalėdinė kompozicija vazone – išsami video instrukcija" (čia pamatysite, kaip susodinti paskutinėje nuotraukoje matomą vazoną)
"Kaip sėkmingai persodinti kalėdų eglę"
"Kalėdinė dekoracija stalui, kurią sukurti sugebėtų kiekvienas"